Find it on Amazon
The Instep Bike Trailer is the most popular bike trailer on the market.
With over 5,600 reviews on Amazon and an average 4.7-star rating, it's no wonder it catches the eyes of so many parents who are looking for a reliable bike trailer for an affordable price.
But does the Instep really hold up in real life?
Or are there better options out there that shoppers just aren't seeing because Amazon is pushing their "#1 Best Seller" label on the Instep bike trailer?
I've been using the hugely-popular Instep trailer for our family outings recently, and it definitely gets the job done at a killer price. But there are several reservations I have when recommending this bike trailer.
This is a comprehensive review of the Instep Bike Trailer. Keep riding to find out if this is the trailer for you!
Is Amazon's most popular bike trailer worth it?
The Instep Bike Trailer is a very affordable bike trailer—great for budget-minded families looking for a bike trailer that gets the job done. However, the quality of the trailer and plastic wheels are not the greatest, which is why a higher-quality trailer in a similar price range would be recommended, such as the Schwinn Trailblazer (single-seater) or the Allen Deluxe (double-seater).
If you can swing for a $350 trailer, I would highly recommend a bike trailer that has a very strong protective cage and converts seamlessly to a stroller: the Schwinn Joyrider (double-seater).
There are a few reasons to like this bike trailer, which we will get into below. But there are also several reasons why I would not recommend the Instep trailer to someone.
Pros
Affordable price
Available in single and double seats
Easy set-up and attachment
Ample storage space
Cons
Plastic 16-inch wheels
Folding and unfolding the trailer is tedious
Canopy cover is not great quality
Keep reading to find out everything you need to know about the Instep Bike Trailer.
In this article, we will cover a few important factors to consider when purchasing a bike trailer. They are:
Price
Design
Weight Limit
Comfort
Attaching to a bike
(Plus 3 things I don't like)
Price
For just about $120, you really can't beat the price of the Instep trailer, which makes it a very attractive purchase for many budget-minded families.
When comparing to some of the high-end or even mid-range bike trailers on the market that cost $400-$900 more, the Instep trailer seems like a steal of a deal.
However, what some shoppers may not know is that there are a few other bike trailers of better quality in a similar price range that have the same (or better) features.
As mentioned earlier, the Schwinn Trailblazer (single-seater) or the Allen Deluxe (double-seater) are other options to consider for a similar price. But, if you are willing to spend to $350, I would recommend the Schwinn Joyrider (double-seater with a strong protective cage).
Here's a quick comparison with other popular bike trailers in a similar price range:
Variations of Instep Trailers
Instep's entry-level bike trailer has a few variations of the same product in the same price range, which makes it a bit confusing.
The variations are for different seat capacities (single or double) and different colors (blue, light green, red, and light blue). Other than that, all of the variations attach in the same way and have the same overall quality and performance.
The Design
Right out of the box, there are a few features that stand out.
Plastic wheels
Apart from not looking that great, the plastic wheels don't give me much confidence that they will last over time. When I opened the Instep box delivered by Amazon, the wheels already had some scuffs and scratches on them.
If I were to crash or the bike trailer was to tip over (has never happened), then I'm pretty sure the wheels would crack or just break.
16-inch wheels
The gold standard for bike trailer wheels is 20 inches, which means the 16-inch wheels on the Instep are less than ideal. With bike trailers, it is often preferred to have larger wheels to make going over bumps or rough terrain more smooth for the kids.
The good thing about having 16-inch wheels is that the trailer will likely fit in any car's trunk without needing to remove the wheels. This is a very nice feature if you plan to drive to your riding location and have a sedan with a smaller trunk.
Attachments
Instep trailers come with the necessary couple attachment, washer, and security pin to attach the trailer to a bike, right out of the box. The coupler that comes in the box is the newer coupler that has a larger diameter, which will fit thru-axle bikes. My bike has disc brakes, which use a 12mm thru-axle, and the coupler attaches just fine.
The package also includes a handy flag that allows for better visibility on the road. It is recommended to use the flag when riding in close proximity to cars, as cars sometimes do not see the bike trailer because it is close to the ground.
However, if you are primarily riding on sidewalks and bike paths, then using the flag is entirely up to you.
Let's talk about what's good about the design: It's lightweight!
At only 24 lbs, the Instep is on the lighter end of bike trailers. This is great for going on longer rides and climbing lots of hills. If the ease of pulling a bike trailer is an important factor for you, then you can consider the Instep trailer.
However, I have found that the actual weight of the bike trailer matters less and less as you get used to pulling the trailer and your legs get stronger (and they will!).
My usual trailer of choice (Schwinn Joyrider) weighs an impressive 40 lbs, and I don't even notice the extra weight.
How much weight can it hold?
The weight limit for the Instep is standard: 40-lbs weight limit for the single-seat trailer, and 80-lbs weight limit for the double-seat trailer.
One of the great benefits of owning a bike trailer is that it will last years into the future. With the Instep trailer, you can comfortably ride or stroll with a child until they are 6 or 7 years old, depending on the size and weight of the child.
Also read: How Old Should a Child Be to Ride in a Bike Trailer?
Is it comfortable for the kids?
The interior is rather spacious for a child—they can comfortably sit or play while looking out the window. The bench seat is a hammock-style (as opposed to a bench-style), which means if two children are sitting together they might slide into each other a bit. Bench-style seats are generally preferred, but it's what you pay for in this case.
The ventilation in the Instep trailer is quite nice. It has screens that open and close on the front and back to give your kiddo some fresh air.
Attaching the trailer to a bike
The Instep bike trailers come already assembled out of the box, so all you have to do is unfold the frame, attach the wheels, then hitch it to a bike.
To attach the bike trailer to your bike:
Attach the coupler to your bike's rear wheel
Flip the hitch arm forward
Attach the hitch arm to the coupler using the security pin
Hit the road!
Some types of bikes are not compatible out of the box. If you're not sure if your bike is compatible, check out this post.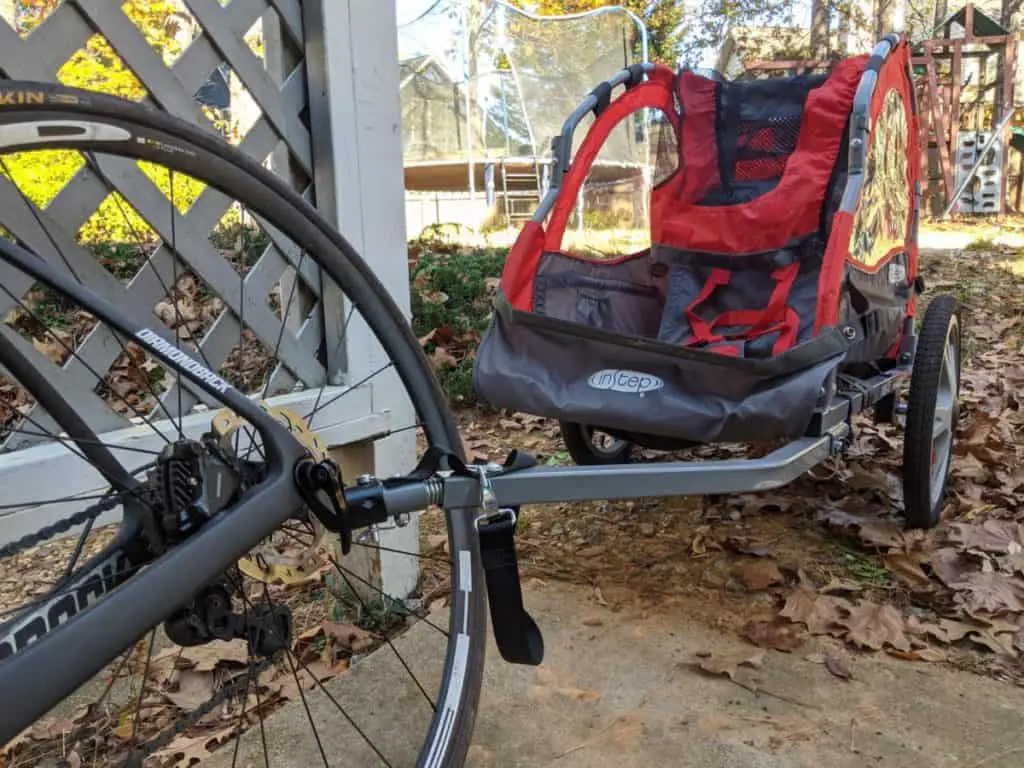 Drawbacks of the Instep Bike Trailer
There are two main drawbacks to the Instep trailer that have occasionally been an inconvenience, which altogether make it a trailer that I would not personally recommend to a friend.
1. Folding and unfolding is a hassle.
With bike trailers, you really need to be able to quickly pack up and get going. This bike trailer's canopy is tedious to pull over the frame and a hassle to attach to the frame. I would much rather not have to remove the canopy to properly fold up the bike trailer and store it or throw it into the trunk of my car.
On top of that, the actual process of folding and unfolding takes a few tries to get used to, which is very different from folding up a stroller. You can watch the video below to get an idea of how it folds and unfolds.
The canopy cover itself uses low-quality snaps that are a bit cumbersome to attach. The snaps may also come off when riding if not lined up properly.
2. The wheels are just bad.
I really tried to like the wheels on this thing, but they just aren't great. There are two things you need to have on bike trailer wheels: metal spokes and 20-inch wheels.
Instep got both of these wrong with this bike trailer. The plastic will not hold up over time or on rough terrains, and the 16-inch wheels don't make the ride as smooth as it could be for the precious cargo.
However, for a bike trailer at this price point, it's what you get 🙂
Here are my recommended top lightweight bike trailers.
Here are 7 tips to make pulling a bike trailer easier.
What do other parents say about the Instep Bike Trailers?
With over 5,600 mostly-raving reviews on Amazon, it's worth taking a close look at what other parents are saying about the Instep.
Here's what most users say:
Pros from Customers
"Doesn't feel that heavy when pulling it!"
"Rainproof cover to keep mud from splattering my baby girl"
"The trailer was very easy to set up. It attached to my bike easily, too. My son loved going for a ride. The storage area is a good size for a diaper bag/picnic supplies. Child straps are easily adjustable as well."
"Works great for getting around town. Has pockets inside and a small area behind the seat for storage."
Cons from Customers
"I would say it's good for occasional users, but if you plan on doing a lot of biking, spend the extra money for a nicer trailer, at the very least get one with suspension!"
"Seat isn't very high quality- sags down a little no matter how much you adjust it"
"I lost a couple of small items I picked up at the store because I didn't realize that there are gaps in the bottom back corners!"
Conclusion: My Recommendation
I tried hard to not make this article a roast of the Instep bike trailer! I hope to be clear that this bike trailer is definitely a solid choice for parents who are interested in bike trailers as an occasional recreational outing with the family, on a budget. It gets the job done and you probably won't even know the difference between it and a higher-end bike trailer.
But, I'm here to tell potential buyers that there are better options on the market to consider in the same price range, such as the Schwinn Trailblazer (single-seater) or the Allen Deluxe (double-seater). If you can swing for up to $350, I would highly recommend a bike trailer that has a very strong protective cage and converts seamlessly to a stroller: the Schwinn Joyrider (double-seater).
Overall, I have seen folks out and about using the Instep trailer and seemed very happy with their purchase—and that's all that matters after all.
Need help finding the right bike trailer?
If you need help finding the right bike trailer for you, my recommended trailer for most people is the Swhinn Joyrider, which is an affordable double-seater that converts beautifully to a stroller. Check out my full review with photos here.
Check out the Ultimate Guide to Buying a Bike Trailer for more help with choosing a trailer. I also have compiled a list of the top bike trailers for every common situation, which you can check out here.
Ride on!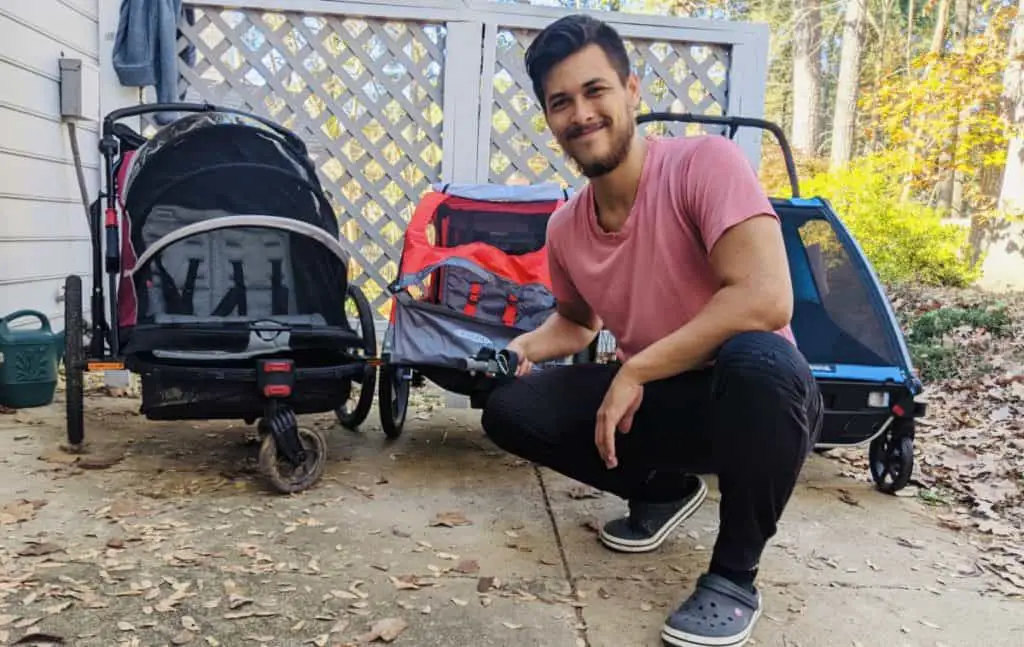 Also read:
How Hard Is It to Pull a Bike Trailer with Kids? 7 Tips to Make It Easy
Can Bike Trailers Be Used On Any Bike?
How Much Do Bike Trailers Weigh? (With 15 Examples)