Mountain bikes are praised for being the most rugged among all types of bikes, taking you through rough terrains and challenging conditions. But when this isn't enough, technology comes in to help. This is why people install a motor on their mountain bikes, adding some torque to it for better riding equipment.
This step-by-step guide covers how to put a motor on a mountain bike, and you'll be surprised to see how straightforward it is. You can follow our steps while putting the recommended tips in mind to improve the performance of your mountain bike. Continue reading this guide to know more.
Why Put a Motor on Your Mountain Bike?
There are different reasons why you want to know how to put an electric motor on a mountain bike, as this practice comes with many benefits for your biking experience. As long as you add an engine to a fantastic option like the 26-Inch Micargi Women's M40, you can fully enjoy biking.
Make Riding More Convenient
If you want to enjoy riding your mountain bike with less hassle, then a motor can make this happen. With an engine on your bike, one pedal stroke can be up to ten strokes on a mountain bike with no engine.
So, you can exercise while putting less energy into cycling, increasing your efficiency. Since mountain biking is a great way to exercise, making it more convenient would be beneficial, especially when you have health challenges.
Extend the Bike's Lifespan
When riding your mountain bike, you pressure the drivetrain, chain, and cranks, leading to it wearing out after a while. As you ride your bike regularly, you're moving forward to wear and tear.
But you can slow down this process with a motor, which would assist and automate the pedaling cycle. So, other parts don't have to work as hard.
Provide Long Distance Biking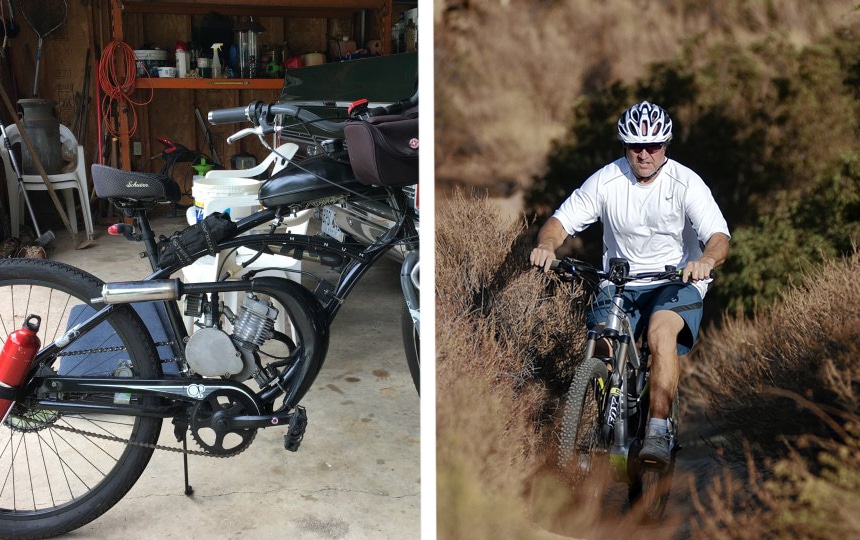 Since the pedaling motion is automated and assisted by the motor, you can bike longer distances than a regular mountain bike. This comes in handy if you enjoy mountain biking on your favorite trails Trusted Source Cycling is on a roll | The Washington Post More than 2,900 miles in the West and Midwest have been added to the U.S. Bicycle Route System's national network. www.washingtonpost.com , especially cross-country.
Things to Consider before Motorizing Your Mountain Bike
Before you dive into motorizing your mountain bike, you should keep a few factors in mind so you don't make any mistakes. Although price is an essential factor, it's not very expensive to motorize your mountain bike. Also, if you save money by buying one of the best gravel bikes under $500, you have more to get a motor.
Motor
Since you're installing a motor on your bike, it's not surprising that this is the most critical factor. Choosing an engine for your mountain bike, you should consider how much power you're planning to add to your bicycle. But, it's advisable to not go below those with 750 watts, as they promise efficiency and long-lastingness.
Brake System
You will need to have strong brakes on your mountain bike if you're planning to motorize it. E-bike-specific brakes are a perfect choice, as they would help with modulating your braking. It would also prevent your mountain bike from falling apart.
Battery
The battery on your mountain bike is also essential, and lithium-ions are perfect for motor-assisted bikes. These are more reliable than other types and are also safe to use with engines. Although a bigger battery is tempting, you should remember that they are heavy for long travel.
Wheel Set
Finally, it would be best if you thought of your hubs, tires, rims, and spokes, as they take most of the beating on a mountain bike. Motorized bikes put pressure on the wheelset, so ensure they are rugged and durable.
Preparation for Motorizing Your Bike
Now that you have all the parts of your mountain bike ready for the motor, you need to prepare your bike for the entire process. It's not enough to buy an engine and jump into it, because you need some tools to set up your mountain bike. It won't be challenging to motorize with a reliable bike like the 26-Inch Micargi Men's M50.
Prepare the Tools You'll Need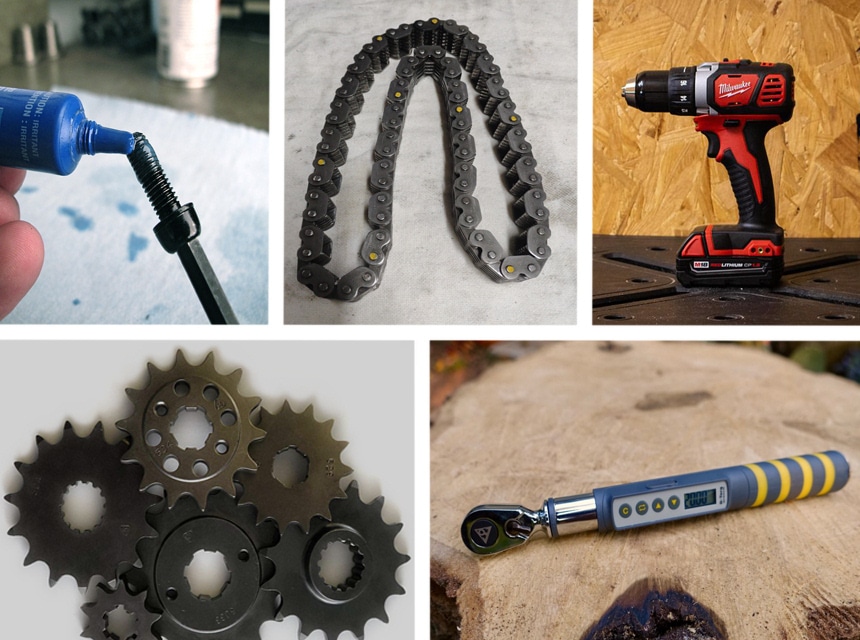 Begin by putting together all the tools you will need to install the motor on the mountain bike. For one, you would need to have protective clothing to keep your clothes and skin safe. These include gloves, overalls, face masks, aprons, and trousers. You also need to have the motor and essential tools.
The next thing to do is set up your workspace, whether it's in your garage, driveway, or any other place that is spacious enough to move around. Anything that might limit your movement should be pushed aside in the meantime. You can place a 'Do Not Disturb' sign or something similar at the door if you're working somewhere busy.
Other things you might need include:
Thread locker
Thread locker fluid
Sprocket
Drive chain
Drill
Torque wrench
Prepare Your Mountain Bike
Now, you need to set up your mountain bike in the proper position for installing a new engine. The bike should be placed at a position above ground level, as high clearance is vital to get the job done. You can do this with a bike workstation or any other elevated platform.
It's advisable to add a spare front caliper tire so you can stop the bike quickly and immediately whenever you need to do so. To reduce the chances of punctures, you should disconnect the inner tubes from your tires and place them on a tubeless setup. Or, you can replace them with those that are puncture-resistant.
How to Put a Motor on a Mountain Bike
With your workstation, tools, and mountain bike all set up, we can move on to the steps on how to put an e-motor on a mountain bike. There are six easy steps to follow.
Step 1: Select Your Motor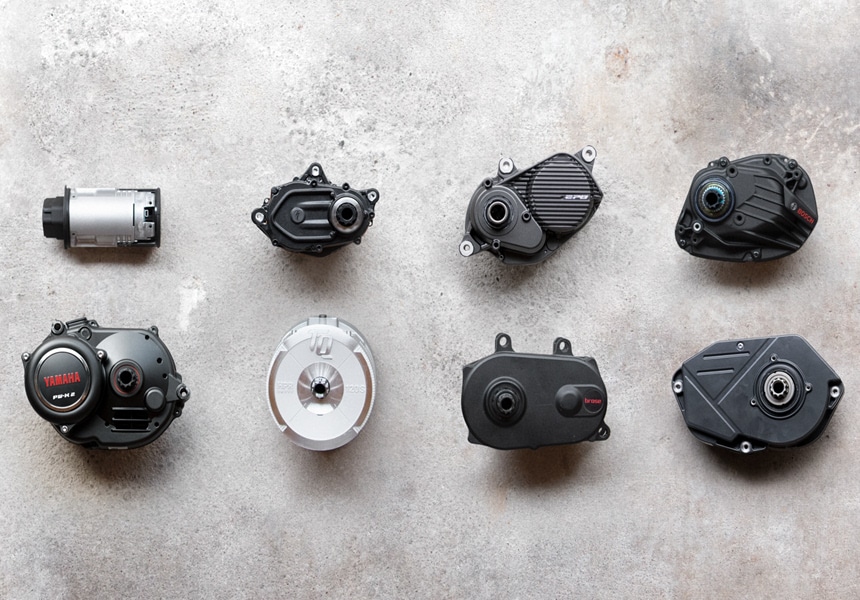 Once you have the perfect motor for your mountain bike, you've done most of the work right. There are different kinds of engines, and you would have to carry out extensive research before choosing one that meets your needs.
When selecting a motor for your mountain bike, you should consider the amount of torque you need. Another critical factor is the terrain you are planning to ride and if the torque offered can handle it. Between gas- and electric-powered motors, you should weigh the options and select one.
If you're choosing a gas-powered motor, you need to consider the fuel consumption and how much emissions it releases, keeping the environment in mind. As for electric-powered motors, they are efficient and safe for the environment, so they are a good option.
Step 2: Crosscheck the Motor-to-Bike Compatibility
While it seems like you have the perfect motor for your mountain bike, you still need to crosscheck the compatibility between the two. The engine should work seamlessly with other parts of the bike, as explained earlier (the wheelset, battery, and brake).
For one, the motor should be a perfect fit in your mountain bike frame. There is no answer to "what is the best bicycle frame to put an engine on?" But it's always better when it's a snug fit without protruding and does not require much drilling before it is secured. If the engine doesn't fit, but that's the one you want for your bike, you can modify the frame instead.
To modify the frame, you can install a new bracket into the tubes at the top and bottom. Or, you can set up a strap support system for keeping the motor in place while riding, especially downhill cycling. Regardless of what you do, you should tighten the motor in place, so it doesn't fall off.
Step 3: Install the Rear Sprocket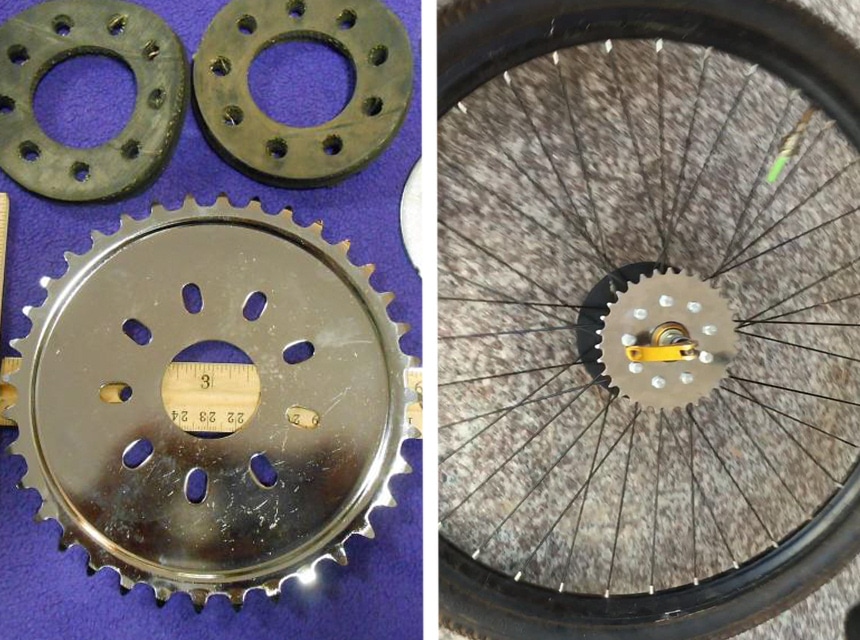 The next step is installing a rear sprocket on your mountain bike, which is important to support the engine. The rear sprocket is installed at the leading powerhouse of the motor, giving power to the wheel, and must be fastened very securely like the motor itself. This prevents it from getting loose when driving on rough trails.
The rear sprocket takes power from the motor and gives it to your rear wheel, so it is crucial to install it properly. Asides from preventing it from wobbling through secure installation, it should also be placed close to the engine of your mountain bike, with no gap.
Step 4: Attach the Drive Chain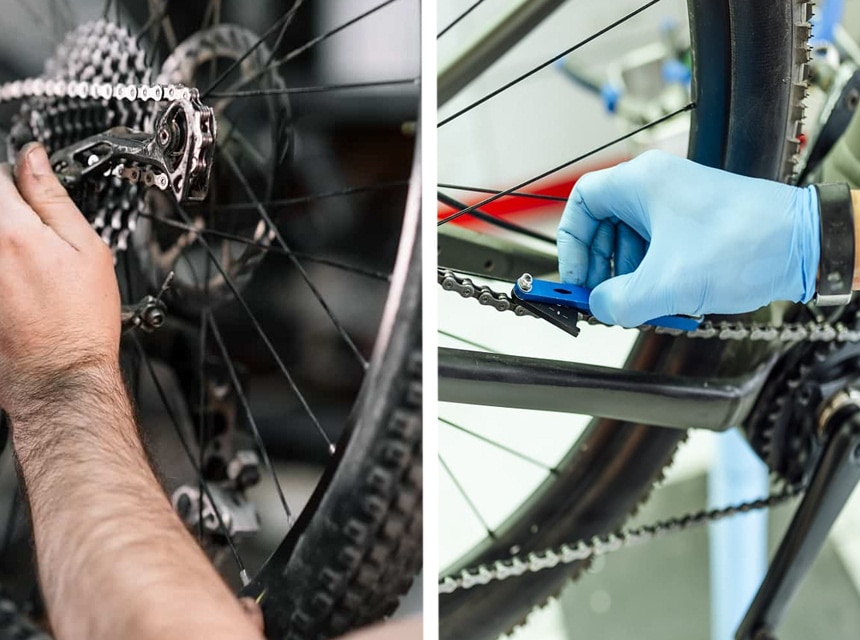 Another vital part of the motor is the drive chain, which transfers the torque from the motor to the rear wheels on the mountain bike. The drive chain is very fragile, and since your mountain bike would be hitting lots of rough terrains, you need to protect it from getting damaged while you ride.
You can keep it adequately secured by adding thread lockers on loose bolts. As the motors vibrate, the bolts can become loose after a while, which means your drive chain is constantly open to damage. You can prevent this by adding a small amount of thread locker fluid to them.
The chains should be installed correctly in a straight line with the drivetrain so that your mountain bike gets all the needed torque from the motor. It also protects it from the motor's pressure.
After installing the chain, you can check if it's secured by shaking and pumping the mountain bike to the ground. If the chain wants to drop out, attach it again until it's completely secure.
Step 5: Re-assemble the Bike and Finish Up
Now that you have your new engine and drive chain installed on your mountain bike, you're almost ready to ride your motorized vehicle. You have to re-assemble the bike and add some finishing touches. The first thing to do is reattach the wheels, starting with the rear wheel. You need to make sure the wheel is aligned with the chain and motor.
Then, align the front wheel to the fork when installing it. Your handlebar and stem might also need some adjustments, as putting them in a more aggressive position would provide more balance and control on your mountain bike.
Next, check all the bolts you have added to make sure that they are tightened securely without cracking the frame or breaking the bike. Using a torque wrench, you can crosscheck this.
Step 6: Test Drive
Finally, you can take your mountain bike down from the elevated platform and prepare for a test drive. Don't rush the first time to prevent damaging it, but go slowly with one pedal stroke. You can check how far it goes from there and keep your ears open for any rattling.
To ride the motor-assisted mountain bike, you first engage the motor, so it builds up the torque. Then, you press the clutch to connect to the motor. Once you're sure that everything is fine, you can start driving quickly.
Try to accelerate and do other maneuvers like deceleration and stopping. You can also go on a longer test ride, although you should be careful if you're riding with top gravel bikes. If you notice anything wrong, you should fix them immediately.
FAQs
Can I convert my mountain bicycle to an electric?
Yes, you can. The fundamental way to convert your mountain bike to an electric bike is by installing an electric motor on the rear wheel. You can follow the steps in our guide for motorizing your mountain bike after purchasing a high-quality electric motor.
Asides from the electric motor, you can install a powered front or rear wheel, attach a drive unit to the bottom bracket, or even conceal a motor in the seat post. With these ways, you can completely transform your mountain bike into an electric bike without buying a new one.
Is it legal to put a motor on a mountain bike?
It is usually allowed to put a motor on your mountain bike, although it would do you well to check the regulations in the region you live. Some states like California define a mountain bicycle as a two-wheeled or three-wheeled vehicle with pedals and a motor, which you can freely drive in the region.
Keep in mind that you should check if there are any restrictions on where you can ride the mountain bike in your state. This is because some regions disallow motorized mountain bikes on typical bike paths. The speed limit is also essential to check when riding your bike.
What is the best motor for a mountain bicycle?
The best motor for a mountain bicycle depends on your needs and the type of bike you're riding, whether it's affordable full-suspension mountain bikes, cross-country bike, and others. It would be best if you decided whether you can handle the requirements of a gas motor or choose an electric motor instead. You need to check the amount of torque you're getting from the motor and how easy it is to install.
After considering all these factors and doing your research on the best motors for mountain bikes, it becomes easier to make a decision.
Final Thoughts
If you want to take your mountain biking to the next level, there's no better way than going faster and driving long distances. There are many places your bike can take you, and with an installed engine, you get rid of any limitations.
This is why learning how to put a motor on a mountain bike is essential for all enthusiasts. With your newly upgraded bike, you can go on rougher terrains, longer trails, and steeper climbs and feel motivated to exercise. Not only this, but it would make your favorite hobby easier to do.
Keep in mind that you should follow the steps in this guide to the letter so you don't end up making the bike worse than it was. Now, you can get started with enjoying mountain biking on your favorite trails.