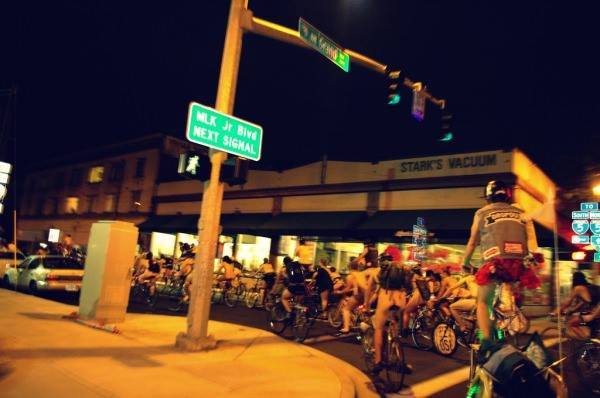 The World Naked Bike Ride is an annual, worldwide bike ride that highlights the vulnerability of cyclists everywhere and decries society's dependence on pollution-based transport. In 2022, the ride starts at 9PM in Peninsula Park.
———————-
Related Portland Events & Info
Beer Festival: Oregon Brewers Festival @ Downtown Portland's Waterfront Park | Featuring 40 Beers, 2 Ciders, Food (July 28-30)Win Tickets ($100): One Nation Under a Groove Tour w/ George Clinton & The Parliament Funkadelic @ Pioneer Courthouse Square | w/ The Motet, Fishbone, Pimps of Joytime (July 29)
Music: Oregon Zoo Presents Outdoor Summer Concerts Zoo Nights | Featuring the Caleb Klauder and Reeb Willms Country Band (July 29)
Win Tickets ($60): Red Fang, Big Business, & Tacos! @ Crystal Ballroom | Rock, Heavy Metal Punk (July 29)
Cruise: Portland Spirit Presents Bigfoot Half Day Adventure Cruise | Narrated by Animal Planet's Cliff Barackman, Downtown to Multnomah Falls (Fridays-Sundays)
——————-
From press release:
World Naked Bike Ride July 30, 2022 Starts at 9PMMore info: pdxwnbr.org
Meet @ Peninsula Park 700 N Rosa Parks Way
2022 will be different. There will be a PDXWNBR on July 30th, but it will be a smaller ride, just one of many great events during Pedalpalooza BIKE SUMMER. Find out details about these rides here.
Do not ride drunk. The police can arrest you for that, and even if they don't it's just a stupid thing to do.
Ride at your own risk and watch where you're going. Be careful. Be sober.
About Nudity We're using nudity as a way to draw attention to cycling, and the folly of oil dependency. We hope motorists will begin to suspect cyclists have more fun, and hence maybe they don't need their cars as much as they thought. See the www.worldnakedbikeride.org web site for more socio-political propaganda.
It's also good, goofy fun.
About Your Bike Ride the bike you have. Don't obsess over the hardware; any bike will work.
If you have multiple bikes (and aren't loaning out the extras to friends) then we recommend a fat-tire mountain bike or cruiser over a superskinny-tire road bike. This is because fat tires are less likely to get a flat, or slip on railroad tracks or a steel grate bridge. Might be a bit cushier to ride, too. But really any bike that works for riding will work just fine.
You should bring a spare tube. If your bike doesn't have quick-release skewers, then you should also bring wrenches that fit your bike's lug nuts. If convenient, you should also bring a pump and tire levers.
Legally, your bike must have a white headlight in front, and a red reflector or red light in the rear. Set your light to steady mode, not flashing, for group riding.
Frequently Asked Questions Before the ride, you can contact us via these channels:
Facebook: PDX.WNBR
Twitter: @pdxwnbr
Email: [email protected]
And please remember to tag photos and posts with #pdxwnbr.
How much should I strip down? The dress code is officially "As bare as you dare." Typically it's shoes and maybe a helmet. But really, there is no consensus – shoes and a helmet make some happy, while others add some combination of a bra, underwear, and/or stockings. Strip down to whatever level will maximize your fun. We wouldn't presume to tell you what that level is.
Won't I get cold? Yes. You'll start off cold, but we promise you won't feel cold one you ride, you'll just feel a rush. Typically we get a temperature around 60 degrees with light wind.
What can I do to stay warm? Wearing shoes and a helmet help. Big socks. Arm warmers (old socks with the toes snipped off). Maybe a Superman cape. Sadly, we haven't figured out a way to use those chemical hand warmers while naked, though they sound like they'd be great.
Isn't this illegal? Though some Portland citizens may wish it was, it's not. See The Law. Since this is a protest, it's protected by Oregon's constitution. Nudity as a form of protest is protected, but lewd behavior, as defined by Oregon law, is not. Please don't be lewd, obscene, or engage in any sexual activity – that is an arrestable offense.
Can I participate without a bike? We've had skateboarders, rollerbladers, roller skaters, people on scooters, people with wheelchairs and other mobility devices, and joggers join the protest before. Anything human-powered is welcome.
Can I rent a bike? Yes! There are plenty of establishments like Portland Bicycle Tours where you can rent for a few days, or you can rent a BIKETOWN bike for a few hours.